New Collaborative Classrooms that Deconstruct Standards
Inspired by the principles of active learning, LaSalle College's innovative new classrooms deconstruct standards.
The LaSalle College's collaborative classrooms are innovative learning spaces offering cutting-edge ergonomic furniture and technology.
The educational institution now has a dozen of these collaborative rooms, including six new ones.
Active learning
With their rearrangeable furniture and technological tools, the classes make it easier to set up educational activities based on active learning techniques. They encourage teamwork and group projects.
"Our teachers were called on to modify their teaching methods to be more student-focused. Lectures give way to coaching and interaction," emphasizes LaSalle College's Academic Dean, Marie-France Tassé.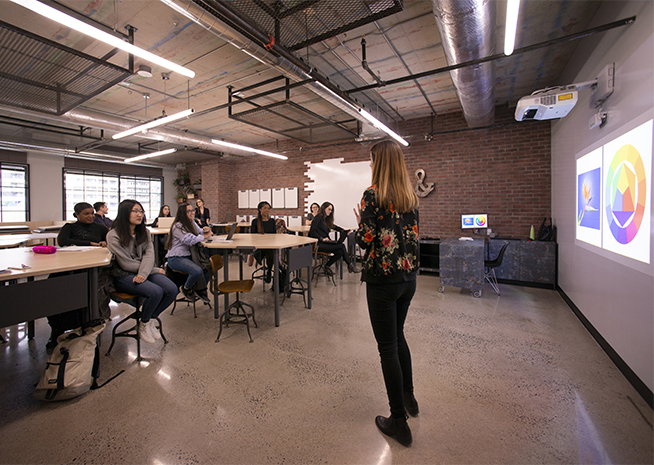 Improving well-being
Classroom configurations provide a relaxed, friendly environment. In addition, teachers assign more group work, creating an atmosphere that fosters peer support.
Students are more comfortable with speaking up in class and participating in rich, constructive discussions.
"Since they have so many tools available, students demonstrate a higher level of creativity, as well as stronger engagement in their own learning process," states Assistant Director of Academic Studies, Mathieu Lépine.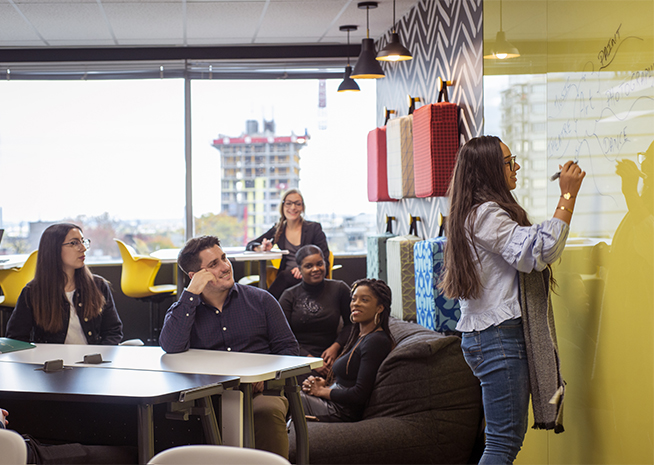 Cutting-edge design
LaSalle College hired VAD Designers d'Espaces to design the new classrooms. The Terrace has real trees, a green wall, artificial turf and light garlands.
The Bistro has benches with colorful cushions, a decorative library and eclectic furnishings.
Tandem's walls and floor are graphically divided into two contrasting sections—one white and the other black.
The Loft has industrial ceilings and a red brick wall. Éric Santerre, a well-known Montreal artist, created the two new pieces of art decorating the sliding doors.
This artwork was inspired by the programs offered at LaSalle College as well as the destinations throughout the world where the LCI Education network operates.