LCI Education: Winner of Canada's Best Managed Company for 2nd Consecutive Year
Montréal, May 9, 2023 – For the second year in a row, LCI Education has been recognized as part of the prestigious Canada's Best Managed Companies program. The recognition is presented to companies that demonstrate leadership in strategy, performance, innovation, commitment to culture, and financial management towards achievable and sustainable growth. The distinction follows a rigorous independent review of Canadian-owned companies.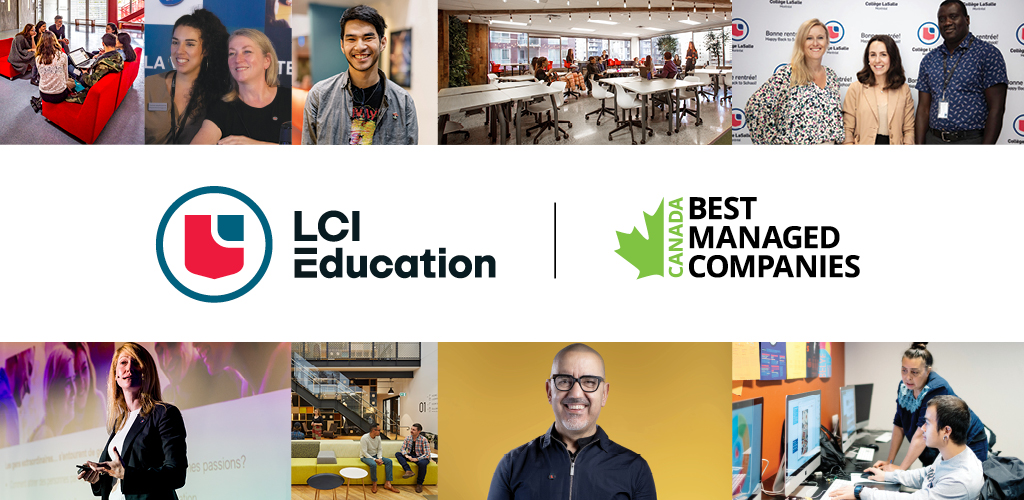 From Claude Marchand, President & Chief Executive Officer, LCI Education:
We are honoured to receive this distinction for a second consecutive year. Our team is motivated by continuous improvement, and this recognition invigorates our spirit to continue on our path towards three major transformative projects: the inauguration of brand-new, state-of-the-art campuses in Barcelona and Vancouver; a new digital platform; and revamped brand positioning.
LCI Education: Excellence in education, employer of choice
LCI Education originated as LaSalle College, founded in 1959 in Montreal. Today, LCI has 12 higher education institutions and 23 campuses on 5 continents. LCI Education is dedicated to quality higher education, based on an innovative education model that combines hands-on learning methods with the best technology to enable highly skilled, competent professionals ready to meet the challenges of today's world of work.
From Sam Rizk, Vice President of Talent & Culture, LCI Education:
LCI Education values training and mentoring programs that encourage intrapreneurship and employee personal growth. Our organization has implemented training and development programs like Lean Sigma 6 and unlimited access to LinkedIn online training to equip our employees with the skills to succeed in an international and competitive environment. We feel LCI Education is definitively positioned as an employer of choice.
From Brigitte Vachon, Deloitte Partner andregional lead for Canada's Best Managed Companies Program:
This year's Best Managed winners displayed courage, resourcefulness, and creativity as they explored new avenues for advancement. We're extremely proud to recognize the impressive achievements of companies such as LCI Education in this particularly rapidly evolving business world. Their successes demonstrate the importance of strong leadership and forethought in driving long-term growth.
Bold innovation in the service of students and businesses
LCI Education is particularly proud of its bold sense of innovation. Across its higher education institutions, to its B2B division (LCI Business Solutions), the approach is the same: Prioritize technology and active learning to enable learners to seize opportunities through quality education.
On the heels of this Canada's Best Managed Company recognition, and in an effort to consolidate itself as a learning brand in Canadian education, LCI Education is revealing a new logo that brings all 23 campuses under one brand identity and represents both the history of the organization and its vision for the future.
The Best Managed program is sponsored by Deloitte Private, CIBC, The Globe and Mail, Salesforce and TMX Group.
About LCI Education
LCI Education is a diverse learning community of 12 select higher education institutions with 23 campuses on 5 continents, and 2,000 colleagues involved in educating over 20,000 learners worldwide each year. LCI Education also provides solutions to workforce challenges with adaptive digital learning options and much more.
LCI Education harmonizes its programs from one country to the next, promoting greater flexibility and life-ready learning experiences, better control over the quality of its services, and deeper respect for the various cultures with which it works. LCI Education has been named one of Canada's Best Managed Companies.
About Canada's Best Managed Companies
Canada's Best Managed Companies continues to be the mark of excellence for Canadian-owned and managed companies. Every year since the launch of the program in 1993, hundreds of entrepreneurial companies have competed for this designation in a rigorous and independent process that evaluates their management skills and practices. The awards are granted on four levels: 1) Canada's Best Managed Companies new winner (one of the new winners selected each year); 2) Canada's Best Managed Companies winner (award recipients that have re-applied and successfully retained their Best Managed designation for two additional years, subject to annual operational and financial review); 3) Gold Standard winner (after three consecutive years of maintaining their Best Managed status, these winners have demonstrated their commitment to the program and successfully retained their award for 4-6 consecutive years); 4) Platinum Club member (winners that have maintained their Best Managed status for seven years or more). Program sponsors are Deloitte Private, CIBC, The Globe and Mail, Salesforce and TMX Group. For more information, visit www.bestmanagedcompanies.ca.
Contact
Karine Humbert-Gauthier,
Director of Marketing Canada,
LCI Education
514 939-4400 ext. 4348
karine.humbertgauthier@lcieducation.com
https://www.lcieducation.com